Services
Air Emissions Inventories and Permitting
Asbestos, Lead, Radon Studies
Brownfields / Site Redevelopment
GIS Mapping
Hazardous Materials Surveys
Hazardous Waste Management
Litigation Support
Clean Air Act Compliance and Permitting
Clean Water Act Compliance and Permitting
Due Diligence Services for Property Transfers
Environmental Due Diligence Audits (EDDA)
Hazardous Spill Response Prevention Plans (SPCC), Planning and Training
Human Health and Ecological Risk Assessments
Mold and Biological Contaminants Studies / Cleanup
Phase I and II Environmental Site Assessments
Remedial Investigation/ Feasibility Study
Remedial System Designs, Installation, Operations and Maintenance
Risk Assessments
Spill Response
Soil, Water and Wastewater Sampling
Stormwater Pollution Prevention Plans (SWPPP)
Post-closure Long-term Landfill Gas and Groundwater Monitoring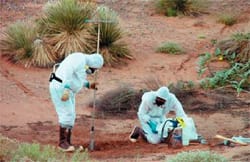 Example Projects
Asbestos Inspection and O&M Planning – USFWS Wildlife Refuges, NM, AZ, and TX
Downtown Brownfield Investigations – Waterloo, IA
Environmental Base Operations Support – White Sands Missile Range, NM; Yuma Proving Ground, Yuma, AZ; and Ft. Huachuca, AZ
Environmental Compliance and Engineering Support – Playas Training Center, NM
FAA Aerial Tramway Replacement Environmental Due Diligence Audits – El Paso, TX
Hearst Mill Site, Brownfields Project – Silver City, NM
Crude Storage and Blending Facility Remediation – ND
Peru Hill Mill, Brownfield Site – Deming, NM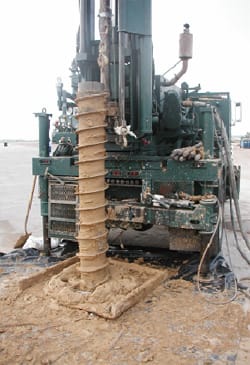 Services
Categorical Exclusions
Environmental Assessments
Environmental Impact Statements
Environmental Impact Document
Army Sustainable Range Program

Range and Training Land Assessments (RTLA)
Land Integrated Training Area Management Plans (ITAM)
Land and Rehabilitation Management (LRAM)

Biological Resources Surveys
GIS Mapping and Geospatial Database Development and Management
Natural Resources Conservation Services (NRCS) Rangeland Data Collection, Natural Resources Inventory (NRI)
Non-native Plant Herbicide Spray Service
Section 7 Endangered Species Act – Consultation
Trail Remediation and Designs
Wetland delineation and planning
Archaeological Field Surveys (Class III)
Archival Research
Cell Tower FAA 620/621
Surveys Cultural Resources Monitoring
Ethnographic and Oral History
Historical Building Surveys
Linear Project Routing and Siting Studies
National Register of Historic Places

Site Documentation
Eligibility Recommendations
Nomination Forms

Remote Sensing
Section 106/110 of National Historic Preservation Act Consultation
Testing and Data Recovery (excavation) Projects
Example Projects
City of Las Cruces Safety Complex and Recreation Facility Environmental Assessment, Biological, Cultural, and Paleontological Surveys, Phase 1 Environmental Site Assessment, Public Coordination, and Cultural Sites Mitigation – Las Cruces, NM
FAA Aerial Tramway Replacement Environmental Assessment – El Paso, TX
Alamogordo Wastewater Treatment Facility Environmental Information Document, Biological and Cultural Resources Surveys, and Public Coordination – Alamogordo, NM
Environmental Support Services – Fort Huachuca, AZ
Village of Ruidoso, Environmental Assessment, Biological and Cultural Resources Surveys, Wetland Delineation and Corps of Engineers 404 / 401 Permitting – Ruidoso , NM
BASCOR 30-acre Landfill Transfer Environmental Assessment and Biological Assessment – Truth or Consequences, NM
NRCS/Natural Resource and Rangeland Inventory Monitoring Surveys
NRCS Data Collection and Geospatial Data Management – NM
Sustainable Range Integrated Training Area Management, Range and Training Land Assessment – Fort Huachuca, AZ
Environmental Support Services – ATEC – WSMR, NM
Environmental Support Services – Garrison – WSMR, NM
Critical Habitat Management for Huachuca Water Umbel Chemical Treatment for Invasive Plants – Fort Huachuca, AZ
Invasive Plant Species Control of the African Rue – Fort Bliss, NM
Natural Resource Survey and Preservation of Solar Array Project – Holloman Air Force Base, NM
Location Studies for the NM Endangered Night-blooming Cereus – Fort Bliss, NM
AT&T, Cultural resources survey and testing for a 23-mile fiber optics line – Las Cruces, NM
New Mexico Spaceport Authority, Cultural resources survey (3000 acres) and data recovery of four NRHP significant entrance road sites for Spaceport America – Truth or Consequences, NM
US Bureau of Reclamation Damage Assessment of a Prehistoric Mogollon/Mimbres Habitation – Sierra County, NM
US Army Corps, River Ranch historical documentation survey – Santa Rosa, NM
US Army Corps, Labadie and Puerto de Luna historic acequia survey and oral history survey – Santa Rosa, NM
Yuma Proving Ground, historical research and archaeological survey of 1,800 acre WWII era Camp Laguna – Yuma, AZ
White Sands Missile Range, Excavation of Lizard Village, Ceramic period pit house dwellings – Las Cruces, NM
Holloman Air Force Base, Cultural resources survey of 800 acres for photovoltaic facility – Alamogordo, NM
Services
40-Year Water Planning
Annual Consumer Confidence Reports
Baseline Monitoring Reports
Grants Funding Support
Hydrologic Analysis
Industrial Pre-treatment Programs Sampling and Reporting
Industrial Wastewater Permitting and Treatment
Irrigation System Designs
Life-cycle and Cost Analysis and Estimating
Network Analysis for Water Distribution Systems
Preliminary Engineering Reports
Master Planning
Slug Control Plans
System Rate Studies
Solvent Management Plans
Water Rights
Water and Wastewater Systems Design and Permitting
Water and Wastewater Monitoring, Laboratory Analysis, and Reporting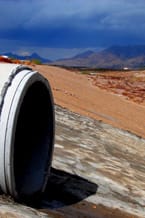 Example Projects
40-year Water Resources Master Plan – Chaparral, NM
Industrial Pre-treatment Programs Sampling – Various Locations, NM
Lower Rio Grande Water Users Association Regional 40-year Water Plan – Southern Doña Ana County
Playas Training Center Wastewater Lagoon's Improvements – Playas, NM
Potable Water Sampling – Fort Huachuca, AZ and Playas, NM
Septic Regulations Development – Luna County, NM
Wastewater System Upgrades, BECC – Bisbee, AZ
Wastewater Sampling – Fort Bliss, TX and Fort Huachuca, AZ
Wastewater Upgrades, BECC/EPA – Nogales, AZ and Mexico
Water and Wastewater Master Plan – Fort Bliss, TX
West Pipeline Project, Feasibility Study – Del Rey to El Paso TX

Services
Surface Hydrologic (Stormwater Runoff) Analysis, Management, and Design
Hydraulic Systems Analysis and Design
Bridge and Culvert Systems Scour Analysis
River and Channel Analysis and Design
MS4 and Storm Sewer Analysis, Design, and Inspection
Retention and Detention Pond Analysis and Design
SWPPP Preparation, Implementation, and Inspection
Floodplain Management, FEMA Flood Insurance Rate Studies, and CLOMR /LOMR Package Applications
Dam Systems Design and Performance Analysis
Example Projects
Bridge and Channel Replacement Design, Hydrologic and Hydraulic Analysis and Design, Clean Water Act Permitting, and Construction Management of Ten Bridges – Village of Ruidoso, NM
Use Attainability Analysis (UAA) of the South Fork Arroyo – City of Las Cruces, NM
Petaluma River Flood Analysis – Petaluma, CA
Nafzinger Arroyo, CLOMR – Las Cruces, NM
Santo Domingo and San Felipe Pueblos Bridge Analysis – NM
Stormwater Master Plan Study – City of Las Cruces, NM
Bridge Replacement Projects – Navajo Nation, NM and AZ
Hippie Fire / Cibola NWR Watershed Design – CA
CertainTeed Gypsum Pond Systems Upgrades – Nashville, AR
Sandhill Arroyo System, CLOMR, Arroyo Design – Las Cruces, NM
Drainage Analysis, Stewarts Point Rancheria – Santa Rosa, CA
Peach Orchard Draw Drainage Analysis – Zuni, NM
XL Ranch Reservation Bridge Replacement Project – Modoc County, CA
Services
Authority to Construct Applications
Construction Permit Applications
Emissions Dispersion Modeling
Emission Inventories
Emission Reduction Credits
Indoor Air Quality Sampling and Analysis
New Source Performance Standards OOOOa
Notice of Violation and Compliance Support
Opacity Monitoring
Permit Condition Tracking
Title V Permit Applications
Visibility Impacts Analysis
Example Projects
Air Permitting and Environmental Compliance Services, North America BPB Gypsum Co.
Air Emissions Inventories, Title V Permit Compliance and Air Permitting, WSMR, NM
Campbell Substation Air Permitting and Air Emissions Controls Analysis, Las Vegas, NV, Las Vegas Valley Water District
Air Emissions Construction Permit, Frontier Energy Natural Gas Plant, Maljamar, NM
Lone Mountain Aggregate Operations / Las Vegas, NV
Calpine Energy 560 MW Natural Gas Fired Power Facility, Dona Ana County, NM
CertainTeed Gypsum Wallboard Plant, Nashville, Arkansas Air Construction permit and Title V permit modifications
Nevada Cogeneration Associates / Air Emission Permitting For Proposed Peaker Plant Installations, Clark County, NV
PABCO Gypsum Company – Air Permitting Analysis For Plant and Mine Expansions / Clark County, NV
Calpine Energy 585 MW Natural Gas Fired Power Facility, Turner, OR
Kayenta Coal Fired Power Project Feasibility Analysis, AZ
CertainTeed Industries Jacksonville, FL Air Emissions Inventories and Air Emissions Compliance
Services
New Site Development and Remodel Design

Demolition
Layout
Grading and Drainage
Utilities
Construction Phasing
Erosion and Sedimentation Control
Drainage Report
SWPPP
TIAs

Storm Analysis, Mitigation Design, and Permitting
Hydrology / Hydraulic Systems
Secondary Containment Systems
Industrial Wastewater Pre-treatment
Landfills / Solid Waste Facilities
Water and Wastewater Systems and Utilities Services and Systems
Roadway and Highway Design
Master Plan
Preliminary Plat, Final Plat, and Construction Documents
Preliminary Engineering Reports
Example Projects
Bridge and Road Design and Construction Management of multiple bridges – Ruidoso, NM
Tularosa Elementary Parking Lot – Tularosa, NM
Downtown Plaza, City of Las Cruces – Las Cruces, NM
Marketplace at Sonoma Ranch, Williams Design Group – Las Cruces, NM
Master Planning, Preliminary Plat and Civil Design of 1051-acre Industrial Park development in Santa Teresa, NM
Site Design-Construction Drawings Walmart Stores, Academy Road – Albuquerque, NM
Site Design Development Plan, Wal-Mart Stores, Valencia & Alvernon – Tucson AZ
Schools in Southern NM for Several School Districts (Las Cruces, Deming, Tularosa, Alamogordo, Anthony, Berino, Central, Arrey, and Bayard)
Duke Energy Power Facility, Evaporation Ponds Design – Luna County, NM
Clipper power Roadways and Pad Areas – Needles, CA
Services
Natural Resource Management, Analysis, and Surveys
Habitat and Risk Identification
Spatial / Environmental Data Management Systems
Online Interactive Maps for Organizations
Suitable Locations Analysis
Hydrological and Watershed Analysis
Adding Elevation Values to Existing Spatial Data
Spatial Interpolation of Data Values Based on Samples
Classifying Land Use from Satellite Imagery
Line of Sight / View Analysis
Basic Groundwater Contaminant Dispersion Modeling
Classic Mapping
Example Projects
Range and Training Land Assessments (RTLA) In Support of Fort Huachuca Sustainable Range Integrated Training Areas Management (ITAM) Program – Sierra Vista, AZ

Geospatial assessments of site conditions – erosion, compaction, vegetation loss , etc. – entered into SDSFIE 3.1 standard geodatabases.

Natural Resources Support – Fort Bliss, TX

$3.5 million contract including biological and field surveys of terrestrial and aquatic systems; development of GIS analysis and diagrams of the occurrence and absence of biological species in relation to existing data sets; habitat analyses; management and compliance support for threatened and endangered species, or other sensitive species; and wildlife management support.

Sampling, monitoring and analysis of restoration sites – White Sands Missile Range, NM

Collection & inventory of data into an enterprise database that provides the foundation for the environmental data management system (EDMS) which is a web-based environmental information and retrieval program written and maintained by Zia.