Zia Supports Spaceport America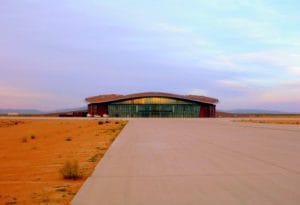 Spaceport America was the original purpose-built space launch facility in the U.S. and remains one of the premier space launch facilities in the country.
With new tenants locating to the facility the Spaceport is poised in 2022 and beyond for a continuing expansion in launch activities. These include UAS and sub orbital vertical launch testing as well as commercial space tourism flight launch operations.
Since 2006 the New Mexico Spaceport Authority has contracted with Zia to complete on-call environmental tasks for the Spaceport America site in Doña Ana and Sierra Counties New Mexico.
Completion of these projects to meet State and Federal regulatory requirements is crucial to the ability of the Spaceport to continue and expand operations to support the increasing launch schedule.
The project site encompasses a total of 18,000 acres of New Mexico State Trust, Bureau of Land Management (BLM) lands, and private lands. Zia has surveyed over 3,600 acres at the site. Zia's services include NEPA and ESA compliance as well as cultural and biological impact mitigation plans to support the Spaceport's ongoing construction and expansion activities.
Zia's team of science professionals led by Victoria Brown, PMP, and Victor Gibbs, RPA, conducting various cultural resources surveys and cultural data recovery activities including curation of artifacts; Threatened, Endangered, and other Special Status Species surveys; and numerous biological surveys, including nest surveys and monitoring.
For more information on Spaceport America see: https://www.spaceportamerica.com